Our caring and compassionate veterinary team!
Our primary asset at the Cat Clinic of Johnson County is our health care team. Our veterinarians, technicians, receptionists, and patient care assistants are carefully chosen, not only for their skills, but for their professionalism and compassion. And, most importantly, they are chosen for their love of cats.
Tash Taylor, DVM
Veterinarian & Practice Owner
Dr. Tash Taylor grew up in Wichita, Kansas, and decided when she was 5 years old that she would be a veterinarian and work with cats. For her, there was never a Plan B.
She received her undergraduate degree at Friends University with a Bachelor of Science in Biology and a minor in Chemistry and went on to graduate from Kansas State University College of Veterinary Medicine. Dr. Taylor has earned the Certified Cat-Friendly Veterinarian designation from the American Association of Feline Practitioners.
Immediately upon graduation from Kansas State, Dr. Taylor came to work at the Cat Clinic of Johnson County in June 2008 when the practice was located in the historic Haskins House. Four years later, she purchased the clinic from Dr. Irene Schomacker. When the opportunity arose to expand by moving across the street to a larger building, the practice relocated to its current location.
When she is not working, Dr. Taylor loves spending time with her two daughters, Jasmine and Ariel. They share their home with three cats – Ishta, who is our clinic cat Ophelia's daughter; Purrl, a beautiful FIV positive Angora mix; and Thumper, a Manx with a huge personality. All three are cats who were brought to the clinic in need of a home.
Although she loves all animals, cats have always been her passion and she loves coming to work every day. Working with our clients to keep their cats healthy and helping those who are struggling with illness brings her great personal fulfillment.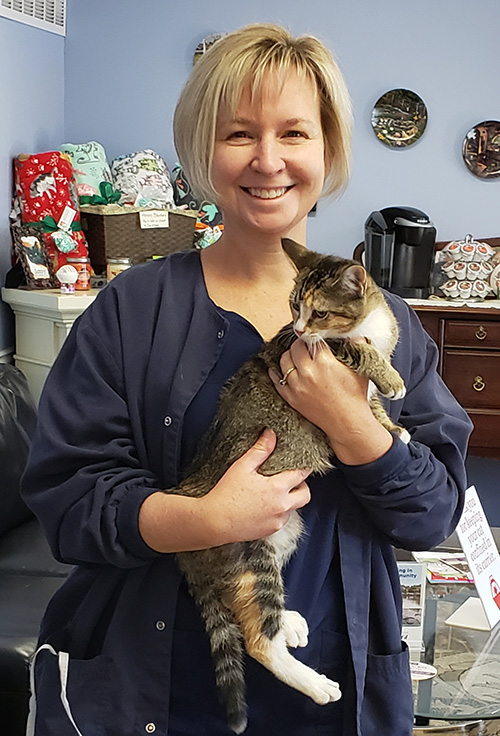 Bonnie Dechant, DVM
Associate Veterinarian
Dr. Dechant (AKA Dr. Bonnie), grew up in the Kansas City area and graduated from Blue Valley High School. She received her undergraduate degree in Animal Science and DVM (1997) from Kansas State University.
Besides working part time at CCJC, Dr. Dechant has a full time job in shelter medicine.
Dr. Dechant lives in Olathe with her son, David and husband, Kenny. They live with three cats and their cat-loving dog. Outside of work and her son's activities, Dr. Dechant enjoys the hobby of vintage motorcycles and cars with her husband.